MIT has granted tenure to three faculty members in DMSE: James LeBeau, Robert Macfarlane, and Cem Tasan.

"For each as individuals this represents a tremendous accomplishment, as they have fundamentally transformed their fields with significant contributions in research, teaching, and service," said DMSE department head Jeffrey Grossman. "Our community is profoundly strengthened given the breadth of the materials domain they cover and the creativity they each bring to DMSE."

In the fall, DMSE will hold a series of "tenure talks," overview presentations by each of the three professors about the challenges of seeking tenure and lessons learned along the way.

Here's a short description of each of the new tenured professors:

James LeBeau uses scanning transmission electron microscopy to shed new light on the connection between structure, chemistry, and function for a range of materials. LeBeau has developed specialized courses on atomic scale imaging. "Jim is widely regarded as one of the finest quantitative atomic microscopists of his generation," Grossman said.  

He's chair of the DMSE Undergraduate Curriculum Committee and serves on the Committee on Academic Performance. A passionate supporter of shared facilities, LeBeau is a member of the Materials Research Laboratory Facilities Advisory Board and chair of the Characterization.nano Faculty Advocates. 

Robert Macfarlane brings together supramolecular chemistry, polymer science, materials science, and materials engineering. "He has leveraged this unique combination of depth and breadth from fundamental chemistry to application-driven engineering to profound effect," Grossman said. Macfarlane and his research team develop nanoscale building blocks, from inorganic nanoparticles to biomolecules.

Macfarlane has taught core DMSE classes as well as the department's General Institute Requirement, 3.091 (Introduction to Solid-State Chemistry). He developed another course, 3.023 (Synthesis and Design of Materials), a first of its kind in DMSE, incorporating synthesis and design of organic and inorganic materials.

Cem Tasan probes the micro-mechanical behavior of metals with novel testing tools. His lab uses deep understanding of microstructure and damage evolution in metallic materials to design alloys that are highly resistant to damage. "Cem's development of a unique portfolio of experimental 'lenses' to watch how chemistry, crystallography, defects, and damage evolve as metals deform has enabled the design of new alloys that push the boundaries in performance for a range of critical properties," Grossman said.

Tasan has taught core graduate class 3.22 (Structure and Mechanics of Materials) for several years and recently designed the core undergraduate class 3.013 (Mechanics of Materials). He has a leadership role on the Graduate Recruiting, Admissions, and Placement Committee and serves on the Departmental Committee on Graduate Studies, where he leads efforts to improve advisor-advisee relationships.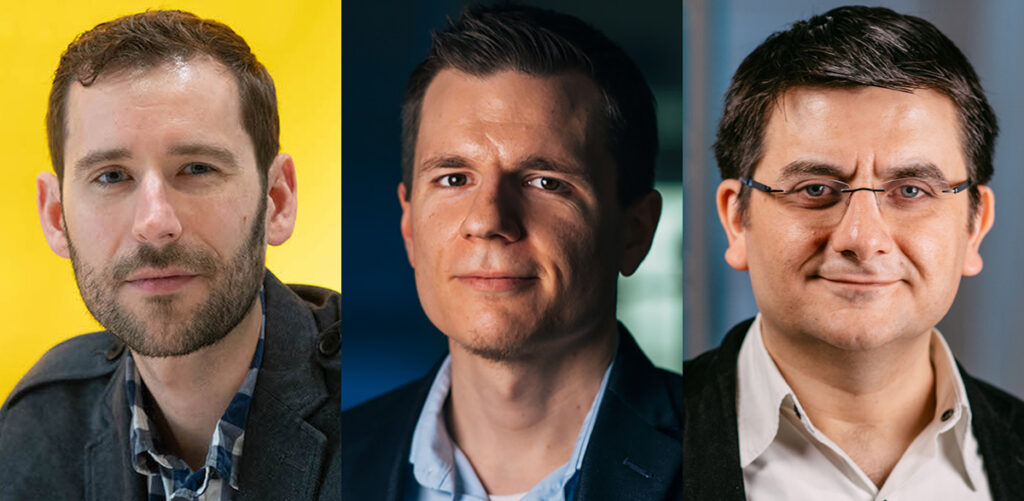 Tenure talks will be held in 6-120, with a reception to follow in the Chipman Room. All are welcome.
Here are the schedules:
Wednesday, Oct. 5, 4:30 pm to 5:30 pm: Cem Tasan 
Wednesday, Oct. 26, 4:30 pm to 5:30 pm: Robert Macfarlane
Wednesday, Nov. 2, 4:30 pm to 5:30 pm: James LeBeau