Research and Impact
DMSE conducts pioneering research in areas such as nanotechnology, biomaterials, and energy materials. Its researchers' innovations have a profound impact on society by advancing sustainable energy technologies, improving health care through biomedical applications, and revolutionizing manufacturing processes.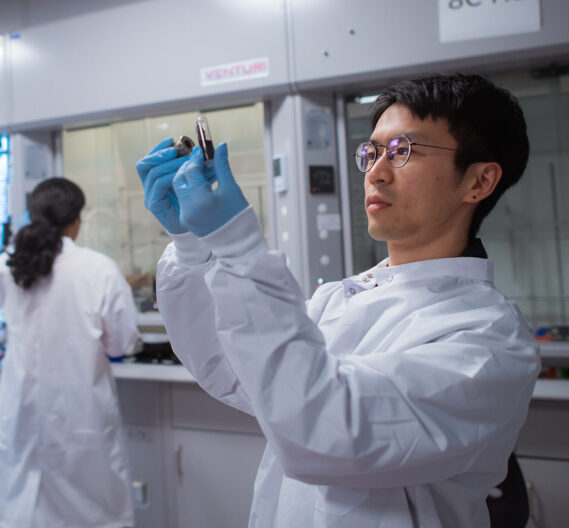 Materials and Research Types
A safer environment, cleaner energy, and better computing devices depend on the materials with specific properties. DMSE researchers start with existing materials and apply a number of research methods and Activities. Click on the bars below to find out more.
3D printed structures for modeling the Young's modulus of bamboo parenchyma
Devised an alternative approach to test the mechanical properties of the various tissues in bamboo. The new method involves enlarging the tissues' microstructure into 3-D printed models so tests can be conducted more effectively.
To model bamboo, we needed to know if its spongy parenchyma tissue behaves like a honeycomb or a foam, as their properties depend on density in different ways. Since it's difficult to cut out samples of parenchyma tissue, we 3-D printed larger-size replica structures of different densities and mechanically tested those instead.
Because bamboo is lightweight and sustainable, there's growing interest in its use in construction. Understanding the mechanical properties of various kinds of bamboo is key in developing safe and reliable products.
How hair deforms steel
Discovered why stainless-steel blades lose their sharpness over time. We found that a single strand of hair can cause the blade to chip. These degradations are more likely to happen if the blade's microstructure is not uniform or if the blade cuts hair at an angle.
To find out why blades quickly get dull even when they interact with much softer material, like human hair.
Understanding the reasons for failure of materials provides us guidelines for improving them. In this case, making blades of more homogeneous microstructures will likely make them chip-resistant and last longer.