Zach Winn | MIT News
|
October 20, 0023
Teaching students about photonics to build up the US workforce
The Spark Photonics Foundation works with educators to get K-12 and college students interested in STEM fields, including advanced manufacturing and semiconductors.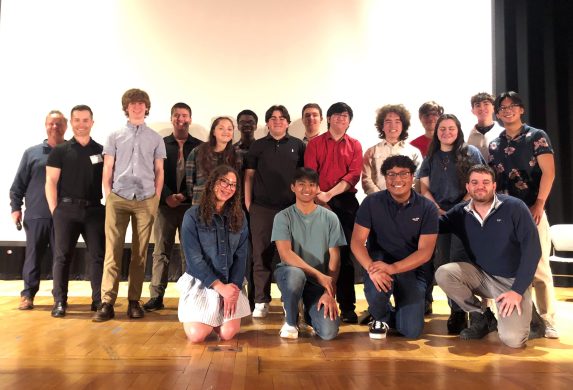 Image: Courtesy of The Spark Photonics Foundation
In 2019, Kevin McComber '05, PhD '11 was at MIT working on integrated photonics — chip-based devices that send and receive signals using light — and set out to hire someone to design photonic chips. The experience made him realize just how little expertise the U.S. workforce has in integrated photonics design, a problem that's part of a broader shortage of workers in semiconductor manufacturing.
The insight would change the trajectory of McComber's career.
Despite having no background in photonics design at the time, McComber decided to leave MIT and start a photonics design services company called Spark Photonics. To directly address the talent shortage he witnessed, McComber and his co-founder, Al Kapoor, launched the Spark Photonics Foundation, a nonprofit that teaches K-12 and college students about concepts in STEM and advanced manufacturing, using semiconductors and photonics technologies.
Over the last two years, the Spark Photonics Foundation has facilitated its project-based learning program, called SparkAlpha, with more than 400 students across Massachusetts.
"The Foundation came from recognizing the need for workers and thinking long-term about what makes the most sense, not just for us but for the country, to address the gap in photonics and in semiconductor manufacturing more broadly," McComber says.
The SparkAlpha program exposes students to the applications of integrated photonics — which includes areas such as chemical sensing and machine vision — and challenges them to conceptualize creative photonics-based products to solve problems. It also involves trips to local colleges and companies working in the semiconductor supply chain. At the end of the program, students pitch their ideas in an event McComber compares to the television show "Shark Tank."
"It gets students outside of the classroom, and that's what we're finding is a big value, especially to schools that are struggling to come up with relevant 21st-century curricula," McComber says. "We can come in and say we're a company that needs people to do this, and we're going to get you in touch with other companies that have that need as well. Most K-12 schools and even many colleges struggle to make those connections."
In addition to teaching students, the foundation is trying to educate communities and build connections between K-12 schools, industry, and local colleges.
"People tend to think of manufacturing as a career for students who can't think, or who can only do repetitive stuff with their hands," McComber says. "That's definitely not the case. I know this because I worked in the manufacturing industry before starting Spark. We're changing the conversations around manufacturing with teachers, guidance counselors, principals, parents — the students' entire sphere of influencers."
Taking the leap
McComber's journey to MIT started long before he submitted an application to the school.
"In third grade I realized I love math," McComber explains. "A teacher told me, 'If you love math, you should be an engineer, and if you want to be an engineer you should go to MIT.' By 7th grade, I decided I wanted to go to MIT for sure."
McComber majored in materials science and engineering at MIT. During that time, he gravitated toward working with his hands. When he decided to stay at MIT for his PhD under Professor Lionel Kimerling, he started tinkering with Kimerling's photonics machines. The tinkering never really stopped, and over the next six years McComber went on to earn his doctorate in integrated photonics fabrication, studying the production of chip-scale devices for light manipulation and detection.
By the time McComber graduated in 2011, he had spent 10 years at MIT and thought he was leaving for good. He spent the next few years working on chip manufacturing at Intel before moving to business consulting roles.
Then in 2018, he got a call from Kimerling. MIT had begun an integrated photonics workforce program and Kimerling wanted McComber to join the team. He couldn't resist.
The work was part of a federally funded program called AIM Photonics, whose mission is to advance the integrated photonics industry in the U.S.
"Part of the position was starting design services in integrated photonics because no such services existed in the U.S.," McComber recalls. "I wasn't skilled in design, so I went around asking other people to start a design firm. Nobody wanted to."
With Kimerling's blessing, McComber decided to leave MIT and start a photonics design company with Kapoor.
Since then, Spark Photonics has helped companies of all sizes with the design of integrated photonics. The company has also expanded its services by partnering with organizations offering design software and fabrication facilities, providing end-to-end services for scalable integrated photonics design.
The work made McComber acutely aware of the shortages in integrated photonics talent, and he thought of a way to complement the workforce training being done at MIT.
"There's this huge funnel of prospective manufacturing talent that gets whittled down in elementary, middle, and high school, and then it gets super small in college and grad school," McComber explains. "Instead of fighting over a tiny piece at the end of that funnel, we wanted to go upstream and address the big part. There are large sections of that, like underrepresented minorities and girls, who don't traditionally get addressed by the STEM funnel, so we said if we can move the needle at that higher point, we could really make a big difference."
The Spark Photonics Foundation's work started in Massachusetts with a grant from the federal government in 2021. That fall, McComber added Spark's programming to an entrepreneurship class in Chelmsford High School. Spark's first employee ran the next program in an introduction to engineering class at Lowell High School. As part of the programs, students visited Middlesex Community College and the precision electronics company Mycronic in Tewksbury, Massachusetts, as they crafted their solutions.
At the end, students said the curriculum increased their knowledge of advanced manufacturing careers and made them more interested in STEM fields. The teachers also found Spark's program to be a practical scaffolding to teach more abstract concepts.
"In Lowell, the teacher at first was very resistive because she has to teach a bunch of things to get through the curriculum," McComber says. "But once she got into it, she found she could use this tangible program to layer in all the other concepts she was teaching. By week three, she had pretty much thrown out her planned curriculum and used ours as the platform to make things tangible for students. That's not an uncommon occurrence."
In total, the program has run in 22 classrooms so far, with the main limiting factor being that Spark's team still has to travel to schools to put it on. The company recently received another federal grant that should accelerate its ability to scale.
Lessons go virtual
On Sept. 27, the Department of Defense announced it had awarded the Spark Photonics Foundation funding to create a virtual teacher training program to scale its curriculum across the country. The foundation has already begun hosting professional development workshops with K-12 teachers, held at Western New England University in Springfield, Massachusetts, where they learn about the photonics industry and possible career paths for students.
"When we step into a classroom, we don't know the class, but the teacher does," McComber says. "They know which students have a hard time understanding materials presented visually, or which ones have English language learning needs, or which ones are on individual education plans. We think that through this new model not only can we distribute it to more teachers, because we're training them through Zoom, but they can then tailor it to their classrooms."
Spark has also launched a second program, called SparkBeta, in which students learn the Python coding language and use it to design photonic chips.
"In SparkBeta, the students actually do the design after about six hours of instruction," McComber says. "It's approachable for everybody, and we think the program has a great future because it melds the design and education in our business, and it breaks down a lot of barriers to get students thinking about education and career paths they've never thought about before."
That gets at a key goal for the foundation: to not only equip students with skills but also put advanced manufacturing on the map for schools around the country.
"We're changing the conversation because teachers might never have said the word photonics or even semiconductors had we not been there," McComber says. "Now they're seeing this is supported by industry and supported by colleges. They're seeing this is a national priority to build up a workforce in semiconductors."