Jason Sparapani
|
October 25, 2023
DMSE's debut Career Fair connects students with industry opportunities
The department hosts its first-ever career fair, attracting industry giants, startups, and students for networking and exploration.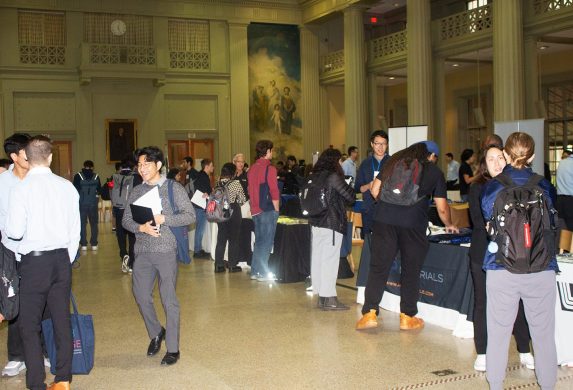 Students in the Department of Materials Science and Engineering (DMSE) got to mingle with potential employers interested in their specific skills this fall when the department held its first-ever DMSE Career Fair.
 
More than 20 companies, organizations, and laboratories set up booths in Walker Memorial on October 20 while undergraduates and graduate students streamed in wearing collared shirts and dress slacks and carrying resumes and business cards. Giants such as Dow, IBM, and ThermoFisher Scientific, as well as startups—including MIT and DMSE spinouts—were on hand to discuss job and internship opportunities.
 
"We are always hiring," said Dina Yuryev, senior research engineer at Commonwealth Fusion Systems, a fusion power company with MIT roots.
 
Yuryev too is from MIT, having received her PhD from DMSE in 2017. She shared that when she first looked for jobs, many were in computer science; fewer were materials-focused.
 
"Materials is such an important field and really critical for technology development both in fusion but also just in clean energy," Yuryev said. "So it's really cool to see all of these companies here who really care about materials."
Tailored opportunities
Career Fair attendees appreciated the enthusiasm. One was Christian Duessel, a junior majoring in mechanical engineering. He plans to declare a double major this year in materials science and engineering.
 
"It's nice that it's smaller and more directed at us," Duessel said. "If you're going up to a company, they're here because they want to hire course 3's."
 
Bringing together companies and organizations looking for materials science and engineering skills in one place is exactly what the event's organizers were looking to do—something that MIT's annual Fall Career Fair, with hundreds of recruiters and thousands of attendees, can't.
 
"This targeted approach ensures that our students have access to opportunities that align closely with their academic background and interests," said Rebecca Shepardson, undergraduate administrator in DMSE.
 
Also, materials science and engineering is a rapidly evolving field with applications across industries, Shepardson said. "A specialized fair like this lets us showcase the breadth of hiring and internship opportunities—and it lets us connect students with employers that are really at the forefront of innovation."
 
That diversity of application was not only evident in the recruiter roster, which included companies in energy, mining, health care, manufacturing, and more, but also the career goals of attendees.
 
Duessel, who is taking 3.17 (Principles of Manufacturing), wants a process engineering position in semiconductor manufacturing.
 
"I've always been interested in manufacturing—how things actually get made," Duessel said, "but then also I get to apply materials science principles and with a communication side to it—it's a very people-focused job."
 
Mrigi Munjal, a PhD student in DMSE who studies the supply chain for nickel in battery production, has a few years left before graduating but wants to see what jobs are out there.
 
"I'm just trying to understand what work culture is like for PhD students in startups and then maybe contrast that with the big companies to see if there's a difference in roles and responsibilities," Munjal said.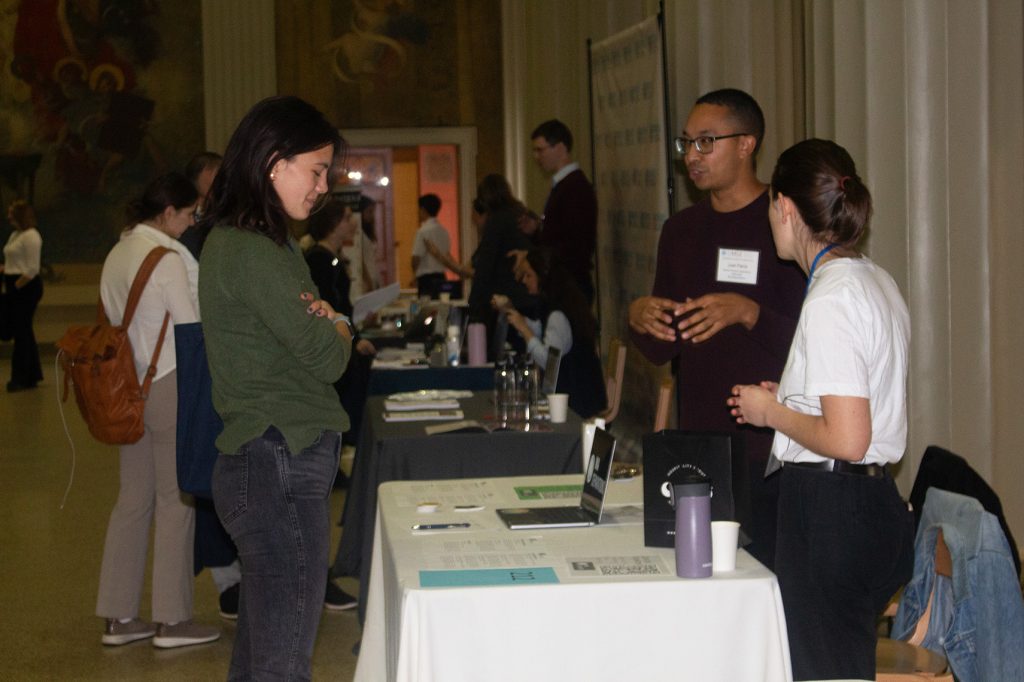 "Smart, passionate people"
On the other side of the booths, recruiters were equally interested in exploring the applicant pool. Tom Kalantar, senior research-and-development fellow at chemicals and plastics manufacturer Dow, was at the fair to talk to people about on-site interviews the company does at DMSE starting each August, as well as a digital internship program for scientists and engineers.
 
"The skills that the students bring or are acquiring here and the creativity that they show in doing their work here are the kinds of things that we are looking for broadly at Dow," Kalantar said.
 
Kyle Dominguez, a DMSE alum and research scientist at Sublime Systems, said his startup is hiring every kind of engineer—mechanical, chemical, materials science, civil. Sublime, which makes low-carbon cement, was founded by former DMSE postdoc Leah Ellis and Professor Yet-Ming Chiang.
 
"The biggest skill set that we're looking for is smart, passionate people who want to change the way the world makes cement," Dominguez said. The company is now expanding into its first commercial production phase. "There are a lot of problems to solve to get to the point where we're actually at scale."
 
While recruiters sought diverse talent, students like Kim Cheng had other reasons beyond an immediate job search for attending the DMSE event. The DMSE senior has a job lined up after graduation—she's moving to Chicago to work at a 3D printing startup. She was at the fair mainly to show departmental spirit and support.
 
"If it was last year, I would have come fully prepared with my resume," Cheng said.
 
Still, Cheng sees value for any student, with or without a post-graduation job, to visit career events and talk to recruiters, especially at one as targeted as the DMSE fair.
 
"It's important to know your options and know the scope of the field," Cheng said. "Just getting a better idea and getting more comfortable talking to representatives I think is an incredibly helpful skill."