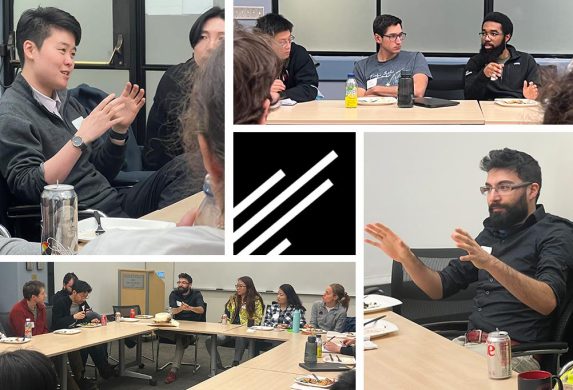 Two DMSE alums, co-founders of Woburn-based startup Phoenix Tailings, visited campus earlier this month to give current students and postdocs a glimpse into the sometimes heady, often grungy world of entrepreneurship. The talk was hosted by FORGE, DMSE's program for alumni relations and professional development.

Phoenix Tailings has developed a method for sustainably refining rare-earth metals, needed for technologies from smartphones to the electric-car motors. Current methods of refining rare-earth metals use huge amounts of energy and toxic chemicals and generate massive amounts of waste.

"Mining tailings are the waste materials from mining and refining, and each year 173 billion tons are generated," said Tomás Villalón SB '14, CTO of Phoenix Tailings. "It's enough material to cover the entire state of California in a foot-thick layer of sludge, or one Mount Everest a year—and it's just thrown away. That's a lot of wasted material that has a lot of unlocked potential value."
"Let's do this better"
It was the potential value that captured the imaginations of Villalón and Michelle Chao SB '17, who became friends in DMSE and stayed in touch after graduating. The concept of Phoenix Tailings began about four years ago with a conversation the two had in Villalón's backyard with their two business co-founders Nick Myers and Anthony Balladon.

"We saw this challenge specifically in the mining sector and how wasteful it is to make metal—how much hazardous waste there is," recalled Chao, COO of Phoenix Tailings. "We said, 'Let's go about this differently. Let's do this better.'"

The company, now with 18 full-time employees, extracts rare-earth metals from the leftover tailings without carbon dioxide emissions.

The process Phoenix Tailing developed, Chao said, "enables us to operate without CO2 emissions, and without any hazardous waste. So that's where the core innovation lies, but at the end of the day what we really do is we make metal. And we make it more sustainable."

The audience asked questions about every step of the business development process, from the initial idea to the market segmentation to the fundraising. Chao said it hasn't been easy.

"We didn't have a lab where we could just say, 'Hey, I'm just going to run to the SEM next door and scan it,'" said Chao, referring to a scanning electron microscope used to determine material properties. "We had to be scrappy at the very beginning because we literally had nothing more than an idea."
Real-world problems, real-world solutions
Such stories were helpful in contextualizing the startup journey for DMSE sophomore Jenna Houle.
"I didn't know much about their technology or industry going in, but I thought their story was a great example of how you can identify a gap and use a materials technology to create value for a lot of different groups," Houle said. "I greatly appreciated Michelle and Tomás' insights on what it really looks like to go through this process as a new grad."

DMSE graduate student Gavin Winter was impressed by the pair's grit and can-do attitude.
"I think it also shed some light on the unique market incentives and gave some funny anecdotes of what it is like partnering with the players in the mining sector, which is largely an unfamiliar environment to us in the academic world."

Pablo Leon, another DMSE grad student, brought up a project Villalón and Chao had worked on while at MIT—the student-run MIT Solar Electric Vehicle Team, which designs and makes a solar-powered vehicle. How different does a startup feel?

"In terms of the general panic of 'Oh, I have to get this done right now'—pretty similar, bizarrely enough," Villalón said. "You're a startup; it can feel like the ship is on fire. So you calmly walk up on the deck with your bucket of water, put out the biggest fire first before, 'Oh look, there's another big fire.'"

As CTO, Villalón said the biggest issues are not just the technology—it's about developing a process and product that's needed in the market. It's about working closely with the commercial team to understand what the customer wants while continuing to improve process economics.

"I have to pull in the context of everything and help develop a solution that's something the market wants, and the market could change its mind within the next six hours," Villalón said. "You're going to have days when the whole thing changes overnight. So you get your pen, let's look at the plan, let's see what aligns, let's see what doesn't, and let's keep moving."

To learn more about FORGE or to get involved visit forge.mit.edu or write to Ximena Hasbach at xhasbach@mit.edu.