Jason Sparapani
|
October 15, 2022
Tom Eagar, renowned metallurgist and admired storyteller, dies at 72
Welding expert and former head of the Department of Materials Science and Engineering is remembered for his personal teaching style and commitment to students.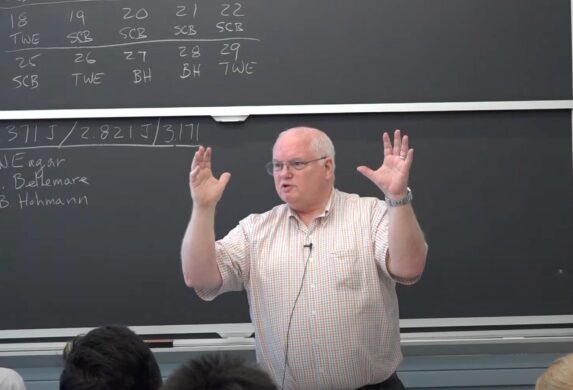 Thomas W Eagar, professor of materials engineering and engineering systems, post-tenure, in the Department of Materials Science and Engineering (DMSE) and an internationally recognized expert in welding, died Oct. 9 at his home in Belmont, Massachusetts. He was 72.

An outspoken scholar and admired teacher, Eagar had a reputation for saying, as he put it, "provocative things," about MIT and research and academia in general, often rooted in deeply held principles about integrity and truth.

"Professor Eagar was as beloved for his personal stories from half-a-century at MIT as he was for his research and accolades in materials engineering and metallurgy," says Professor Jeff Grossman, head of the department. "For all of us in the DMSE community, this is a tragic loss."

Eagar had been part of the DMSE faculty since 1976. In July, he retired from his tenured position to become professor post-tenure and was teaching class 3.171 (Structural Materials and Manufacturing) for the fall semester.

He first came to MIT as an undergraduate, earning a BS in metallurgy and materials science in 1972 and a PhD in 1975. After two years as a research engineer at Bethlehem Steel Corp., he joined the DMSE faculty. He served as department head from 1995 to 2000.

In 2001, shortly after collapse of the World Trade Center in New York on Sept. 11, Eagar and Christopher Musso, an MIT graduate student at the time, wrote a paper debunking widespread speculation about why the towers suddenly toppled, including a theory that the steel in the buildings melted. Instead, the authors wrote, after two jets struck the upper floors, the metal lost much of its strength, causing a few floors to fall, "while the weight of the stories above them crushed the floors below, initiating a domino collapse."

Eagar was elected to the National Academy of Engineering for contributions to the theory and practice of welding in 1997 and appointed a fellow of the American Association for the Advancement of Science in 2002.

He addressed the "wall full of awards" in his Building 4 office during a standing-room-only talk he gave at MIT in September. The lecture was on the history of mentoring at DMSE — that is, how senior faculty members helped bring junior members into the department's fold — and was emblematic of Eagar's frank style.

"I don't care about them much anymore," he said to an audience of faculty peers and graduate students. "But important awards can be important to you as an aspiring academic because other people measure you on these awards. Not that you should be measured on these awards, but you will be measured on these awards."

To Jonathan Paras '18, a DMSE PhD student, Eagar was a protector of "the little guy."
"That is his defining characteristic in my mind. He would go to bat for his colleagues and his students no matter what the personal or political cost was."

Eagar was Paras's teacher but also a kind of informal advisor who would help him with research questions and give career and academic guidance. When he was still an undergraduate at MIT, Paras asked Eagar for advice on attending graduate school.

"I went to his office, sat down, and he says, 'Well, I think the first thing to do is to find out who you are and what you stand for,'" Paras said. "'Because how the heck are you going to make any decision any other way than figuring out who you are?'"

Mike Tarkanian '00, SM '03, a senior lecturer at DMSE, says Eagar was dedicated to his students. "The students' happiness and mentorship were what he cared about the most — his grad students, his undergrads, the department's undergrads. If you were a student and you wanted to talk, he always made time for you."

Tarkanian also recalls his commitment to community. When he was department head, Eagar would host a feast on Registration Day.

"The professors would be grilling burgers for the students, and they'd feed everybody," Tarkanian says. "He'd do a breakfast every year for Facilities, where he would come in and cook breakfast for all the janitorial staff."

He was known also for his storytelling. His lectures on welding and metallurgy were punctuated by recollections of challenges he faced and how he overcame them. It was an effective teaching style, Tarkanian says.

"He was a great storyteller. I think as opposed to a textbook, when you have someone telling you about their personal experience in a really enthusiastic way, you don't forget those lessons."

Don Baskin, a lecturer at DMSE who taught 3.171 with Eagar and will continue teaching the course for the rest of the fall semester, came to MIT after years of working in the automaking industry as a consultant and materials engineer. Eagar encouraged him to tell more "crazy stories" about people he met and things that happened.

"He freed me up from that feeling of obligation, to teach more naturally," Baskin says, "to teach engineering in a more journalistic way, rather than clinical equations and formulas and theories."

Eagar has said his family was among his greatest accomplishments. He is survived by his wife, Pam; children Matthew Eagar, Rebekah Dunkley, Linda Simpson, Karen Meeker, James Eagar, Anna Taylor, and Thomas C Eagar; 29 grandchildren; and one great-grandchild.

A memorial service will be held Saturday, Oct. 15, at 1 p.m. in the Church of Jesus Christ of Latter-day Saints Belmont Chapel, 15 Ledgewood Place, Belmont. All are welcome. The service will also be broadcast on Zoom. Memories, photos, and condolences can be posted at rememberingtomeagar.com.