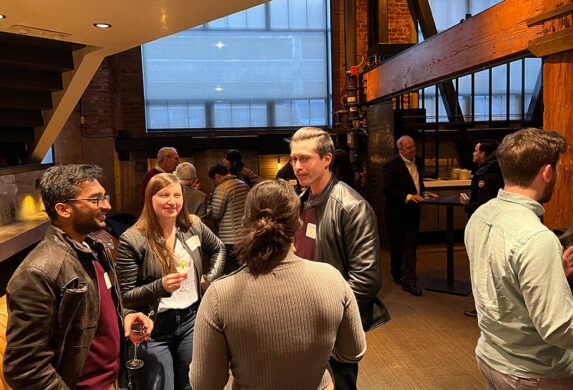 SAN FRANCISCO – At the heart of FORGE, DMSE's program for alumni relations and professional development, is making connecting among students, past and present, wherever they live, work, and play. 

So on January 21, FORGE held its first out-of-state event: a cocktail hour at 25 Lusk in San Francisco, which had Bay Area alumni both reconnecting with old friends and expanding their networks. More than 50 people attended, and the graduation years represented ranged from 1970 to 2022. 

"Course 3s are very attached to being course 3s, so the turnout is always going to be really good," said Pooja Reddy, a 2020 DMSE graduate and current graduate student at Stanford University. "I just met someone who lived in my same dorm at MIT, who graduated before I even got there and was a course 3." 

On and off campus in Cambridge, FORGE holds similar social events as well as one-on-one mentorships, which allow students to learn from the career experience of their alumni peers, and career panels, in which alumni can talk to students about their workplaces and discuss internship or hiring opportunities. 
Professor W. Craig Carter was the faculty host of the San Francisco event. He's an eager proponent of strengthening the DMSE community in places beyond the Boston area.

"Having opportunities to mix with other DMSE alumni in your local community has professional and intellectual benefits," Carter said after the event. "And staying connected with your friends is a key to happiness. While the DMSE alumni community is global, FORGE allows us to host get-togethers in places with large concentrations of DMSE alumni, like Boston and the Bay Area. We hope to expand the locations of such events in the future."
Harry Fujimoto, who earned his PhD from DMSE in 1974, is one alum who hadn't met any of the other guests before the event and made new connections at the cocktail hour.

"What I enjoyed most was the opportunity to get together with other materials science graduates, both those who graduated before me and those who have graduated more recently," said Fujimoto, whose career including consulting and leading process engineering at Intel. "It's exciting to hear what new ideas people are dealing with. It's just fun meeting new people."

Kezi Cheng, who got her bachelor's degree from DMSE in 2015, recently moved to San Francisco. At the FORGE event, she was able to connect with other alumni who live nearby.
"I got to meet a lot of DMSE alums who I would have not otherwise crossed paths with," said Cheng, co-founder and CEO of FLO Materials, a startup that develops recyclable polymers. "I only moved here a year ago, so this is a great opportunity to meet people from MIT, and the people I've met have been really great. I even reconnected with someone from my year."

For Carter, there was a strong sense of community at the event.
"It was so wonderful to reconnect with some of my dear former students and colleagues," Carter said. "I met a lot of new friends. Everybody has something really interesting to talk about, and these personal moments make it feel like a family more than just a department."

To learn more about FORGE or to get involved visit forge.mit.edu or write to Ximena Hasbach at xhasbach@mit.edu.