MIT News
|
March 17, 2023
DMSE grad student group Kitchen Matters leads a live cooking show
Kitchen Matters, a group of DMSE graduate students with a passion for science outreach and cooking, presented a show about the science of marshmallows as part of MIT's Winter Family Day in February.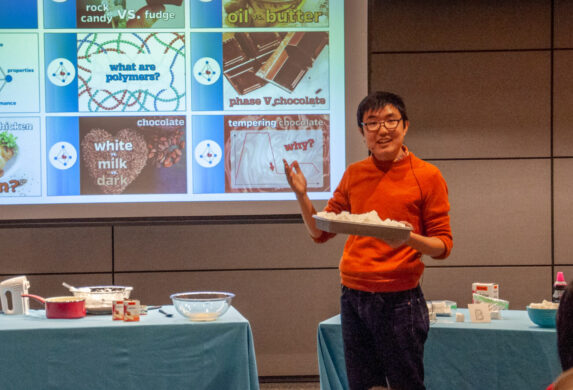 During the chilly last weekend of February, families around Cambridge, Massachusetts, enjoyed a fun-filled day in the Kendall/MIT Open Space. Winter Family Day included a range of family-friendly activities for attendees of all ages. With an estimated 1,500 attendees, the event was MIT Open Space Programming's largest program to date.

Collaborators across the Institute and from MIT's host city of Cambridge contributed to the event's success. MIT groups included MIT Lion Dance, Lemelson-MIT, the Department of Civil and Environmental Engineering, Kitchen Matters put together by DMSE's graduate student outreach group, NSF Institute for Artificial Intelligence and Fundamental Interactions, and the MIT Dance Mix Coalition, which includes MIT student DJs.

From in and around Cambridge, Science Club for Girls, Cambridge Community Television (CCTV), MathTalk, and dance educator Lonnie Stanton of The Click shared their expertise with interactive activities and performances. The Kendall Square Association also helped spread the word about the event. 

Free events and activities like Winter Family Day run throughout the year in the Kendall/MIT Open Space and are designed to engage the MIT, Cambridge, and Kendall Square communities. Warm, quirky, and playful, these programs create connections and energize the space in creative and enduring ways.